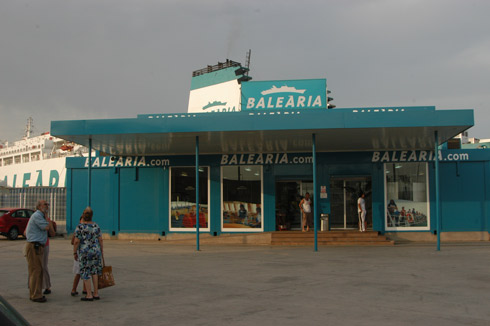 Both arrivals and departures from the Port of Valencia must be made by buses contracted by the organisers of the end-of-year trips
Between 17 and 19 June, 2,500 people are expected to disembark at the Baleària terminal at the València site
València, June 15th, 2021.- The Port Authority of Valencia (PAV) recalls that it maintains the ban on private vehicles entering the Valencian precinct to pick up or accompany students on end-of-year trips departing from or returning to the Balearic Islands from the Baleària terminal. The PAV and the shipping company have established a safety protocol to guarantee the COVID-19 protocols and avoid crowds of passengers over the next few days embarking or disembarking on the company's ferries.
Among the measures adopted, it is worth highlighting the ban on private vehicles entering the terminal. Access is only allowed for buses hired by the organisers of the trip, both for departure and arrival. This operation, which began last week, will continue until Monday 28 June. Specifically, a large influx of 2,500 people is expected on 17, 18 and 19 June with the arrival of several ferries from the islands to the port of Valencia.
On these days, buses will be parked on the arrival of the ships in the terminal grounds. On 18 June, when more than 1,000 people are expected to arrive, the esplanades next to the site will also be available. The students, who will be informed in advance of the vehicle they will be going to, will get off in groups of three buses, accompanied by their monitor and under the supervision of Baleària staff.