Archive
The Port Authority of Valencia Archive is home to the documents produced by the different bodies that have been responsible for the management of the Port of Valencia over time, from the mid-19th century to the present day.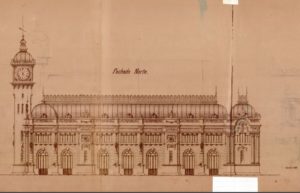 Clock building (northern facade) in Design of Maritime Terminal. Plans.  (1913). Port Authority of Valencia Archive. GIS: 3001-24-051-03-01.
In addition to the documentation relating to the Port of Valencia, we can find documents relating to the ports of Gandía and Sagunto, management of which was assumed by the then Autonomous Port of Valencia in 1985.
Classification table of archive
Historic online archive of the Port Authority of Valencia
In 2018, a project was undertaken to digitalize, describe and index the historical resources of the archive, administrative files dated between 1850 and 1940 approximately, and all annual reports back as far as 1861, in order to make them available to the public by publishing them online.
In 2019 the task of publishing the documents online was undertaken. Before doing so, they were subject to a number of artificial intelligence processes, allowing for information to be extracted from the digitalized images to improve document recovery and search features.
The result was the creation of a database comprised of some 10,000 documents (100,000 digitalized pages) grouped into some 900 files and reports, accessible online from the website and which can be accessed here.
Access to Port Authority of Valencia Historic Archive
Port Authority of Valencia general archive
Location
The General Archive facilities are located in the Port Authority of Valencia building on Avd. Muelle del Turia s/n. 46024 – València – España.
Public access
For consultations in person it is necessary to arrange an appointment in advance.
You can contact the Archive by telephone Monday to Friday from 9:00 to 14:00 on +34 96 393 95 00 (extensions 3132 and 3144), or by email at archivo@valenciaport.com.