Finantial Statements and Annual Report
The Board of Directors of the Port Authority of Valencia (PAV) approved the financial statements for 2022:
Consolidated Financial Statments 2022 and Audit Report
You can also access the annual report of the last year:
As of 2005, the PAV decided to systematically publish its economic and financial information on internet to enhance public transparency. You can consult it on the page of previous exercises.
Charges and tariffs
You can check the current charges and tariffs in the following section.
Grants from EU funds
Note on the statement of E.U. Capital Grants as at 31/12/2022.
Other grants
Improvement of the efficiency and energy saving of the interior lighting installations of the office buildings of the Port Authority of Valencia
The interior lighting system of the Port Authority of Valencia's office buildings has been renovated to make it more efficient, providing lower energy consumption, maintaining lighting levels and reducing CO2 emissions into the atmosphere.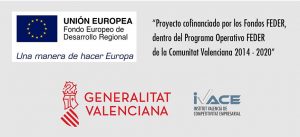 This action results in a saving of 66% of the annual energy consumed by the lighting installation of the four buildings and a reduction in emissions of 48t CO2.