Maritime Connections
Valenciaport is the best and most efficient choice for maritime trade in the Southern part of the European Union. Over 100 regular lines run by some of the world´s largest shipping companies connect it to over 1000 ports on all five continents.
Our main customers include: MSC, MAERSK, CMA-CGM, HAPAG–LLOYD, HAMBURG SÜD, HANJIN, UASC, COSCO, EMES, EVERGREEN, BOLUDA CORPORACIÓN MARÍTIMA, NYK, HOEGH, GRIMALDI, ACCIONA and BALEARIA.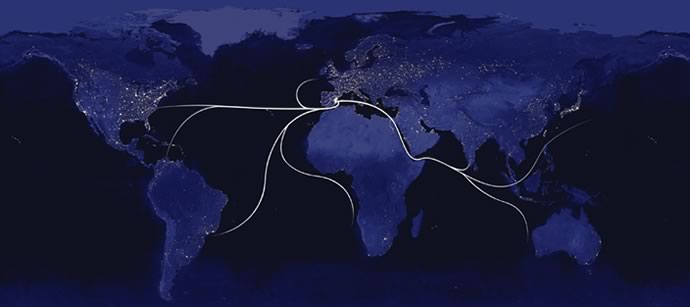 Terrestrial Connections
Valenciaport is located in the centre of the western Mediterranean coastline, in line with the east-west maritime corridor crossing the Suez Canal and the Straits of Gibraltar. This privileged geostrategic position makes its the first and last port of call for the regular shipping lines operating between America, the Mediterranean Basin and the Far East.
Valenciaport has a hinterland which covers 51% of Spanish GDP and half of Spain's working population, in a radius of just 350km. Its proximity to the Spanish capital, combined with its excellent road and rail connections (toll-free motorway to Madrid) and the latest port and shipping infrastructure, make it the natural port for Madrid and central Spain. It is also one of the key hubs for other economic regions in the country such as Castile-La Mancha, Aragón, Murcia and Eastern Andalusia.
As a hub for the Western Mediterranean, Valenciaport efficiently distributes goods over a radius of 2000km, both in southern EU countries and in North Africa (Morocco, Algeria, Tunisia and Libya), representing a huge market of 270 million consumers.
It also has an extensive network of feeder services connecting it to Eastern Mediterranean countries and the Black Sea, which are largely the driving force behind its container transhipments to these destinations.