Port services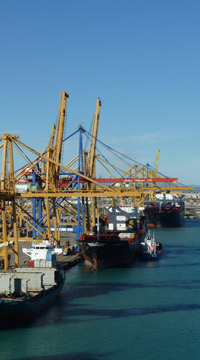 Section 108 of Royal Legislative Decree 2/2011 establishes that port services are service providing activities required for port operations, intended to enable operations related to maritime traffic feasible and safe, efficient, regular, continuous and available to all within the sphere of the territories managed by Port Authorities
The following services are considered to be port services:
a) Technical-Nautical services:
Pilotage service.
Port tugboats service.
Mooring and unmooring service.
b) Passenger services, which include: passenger embarkation and disembarkation, loading and unloading service for passenger baggage and vehicles.
c) Vessel-generated waste collection service which include: the activities of collection of waste generated by vessels as regulated by the Annexes I, IV, V o VI of the International Convention for the Prevention of Pollution from Ships (MARPOL 73/78), as set out in the article 132 of the Spanish Legislative Royal Decree 2/2011 under which the recast text of the Spanish Law on State-Owned Ports and the Merchant Navy was passed.
d) Cargo handling services, which comprise cargo loading and unloading, stevedoring, shipping transit and goods in transhipment.
Port services regulations:
Commercial Services
Section 138 of Royal Legislative Decree 2/2011 establishes that commercial services are service providing activities of a commercial nature, which are not classed as port service per se, but are linked to port activities.
Commercial services specific regulations
Other documents
Shipping agents
Should you have any queries, please do not hesitate to contact​:
sportuarios@valen​ciaport.com​​
Port services providers register
Should you have any queries about the requirements to register as a shipping agent, please do not hesitate to contact​:
secretariageneral@valenciaport.com​