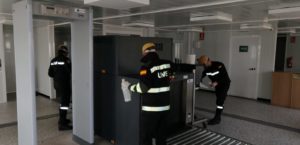 Valencia, March 20th.- The Military Emergency Unit (UME) has carried out preventive disinfection work in the facilities of the Port of Valencia, an area considered strategic for its capacity to supply the health network and distribution establishments of basic necessity products.
The deployment of the UME in the Port of Valencia has been carried out in various two-day time frames and has had the objective of disinfecting certain strategic areas of Valenciaport. Specifically, between Wednesday and Thursday the UME has worked on the disinfection of the passenger identification and rest areas of the Transmediterránea and Balearia passenger terminals, in the container terminals (especially, where there are movements of people or workers and transporters) and in strategic areas of the Valencia Port Authority headquarters, such as the port police checkpoint, the Emergency Control Center, parkings, offices, stairs, railings and common areas.
These disinfection tasks of the Port of Valencia, like others carried out in the different enclaves considered strategic for the management of the pandemic caused by the coronavirus, have a preventive function.
The work of loading and unloading of goods, liquids, bulks, containers and ro-ro cargo of the three ports managed by the Port Authority of Valencia (Valencia, Sagunto and Gandia) are being carried out with absolute normality since the first information related to the coronavirus; although guarantees have been increased since the declaration of the state of alarm.
Recognition to professionals
Valenciaport is a fundamental link in the logistics and supply chain for industrial products, consumer goods and basic necessities that guarantees the proper functioning of companies and the Spanish economy. All agents, operators, companies and people from the more than 800 companies and public institutions that carry out their activity with and in the port are contributing to this normality in port and logistics work with commendable professionalism; either in person and physically or interconnected with the telematic services of the Port Authority of Valencia.