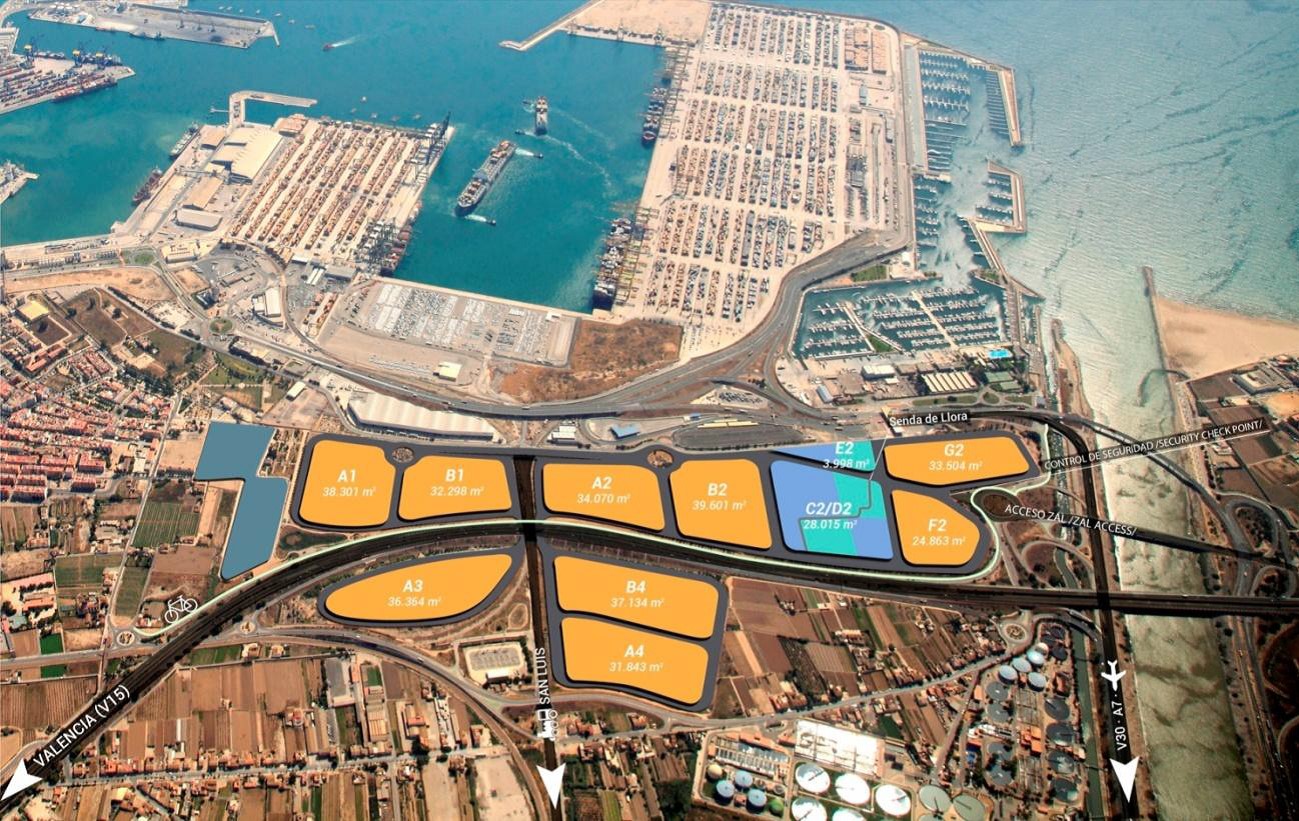 The specifications claim that the Port of Valencia loyalty and / or attract new investments, generating employment and improving the competitiveness of the Spanish business fabric.
Among the award criteria, socio-economic impact measures will be assessed, such as the creation of employment in groups at risk of social exclusion, and environmental measures, such as the adoption of measures to reduce CO2e emissions.
València, April 1st, 2019.- Valencia Intermodal Platform and Logistics has published today the specifications that will govern the award and creation of a surface right on the building plots of the Logistics Activities Zone (ZAL) of the port of Valencia. These documents involve the tendering of a total of 239,000 m2 for logistics activities, specifically plots A1, B1, A2, B2, F2, G2 and A3. The deadline for submission of bids will be 60 calendar days.
The objective of the bidding documents is the provision for the Port Community and first level operators of the logistical plots of the ZAL, whose activity to develop is linked to maritime traffic. With this, it is intended that Valenciaport loyalty and / or attract new investments, generating employment and improving the competitiveness of the Spanish business fabric.
The specifications state that operators may opt for one or more complete blocks, under surface right (DS). Operators who do not opt for full apples may share space with other operators presenting their offer jointly. The A3 block is reserved exclusively for a multi-tenant modular ship project, which will accommodate several operators in need of smaller spaces.
Likewise, the specifications state that the term of the surface right will range from a minimum of 15 years to a maximum of 35 years. Likewise, the possibility of an extension of mutual agreement is established before the expiration of the term. These extensions may be granted for a minimum period of 5 years and without exceeding with such extensions, individually or cumulatively, a term equal to the initially offered.
Technical and economic valuation criteria have been established for the adjudication of the plots. Among the technical criteria are the nature of the finalist clients and the connection of the project with maritime traffic; the specific technical and investment project to be developed in the ZAL; socio-economic impact measures such as the creation of new jobs especially in groups with high risk of social exclusion in the environment in which the ZAL is located or the promotion of gender equality; and measures to improve the environment, including actions to reduce CO2e emissions, the use of alternative energy sources and the commitment to implement measures that contribute to energy efficiency and sustainability.
As regards the economic criteria, the valuation of the monthly fee offered will be considered, as well as the investments planned to be made.
For more information: http://www.valenciazal.com