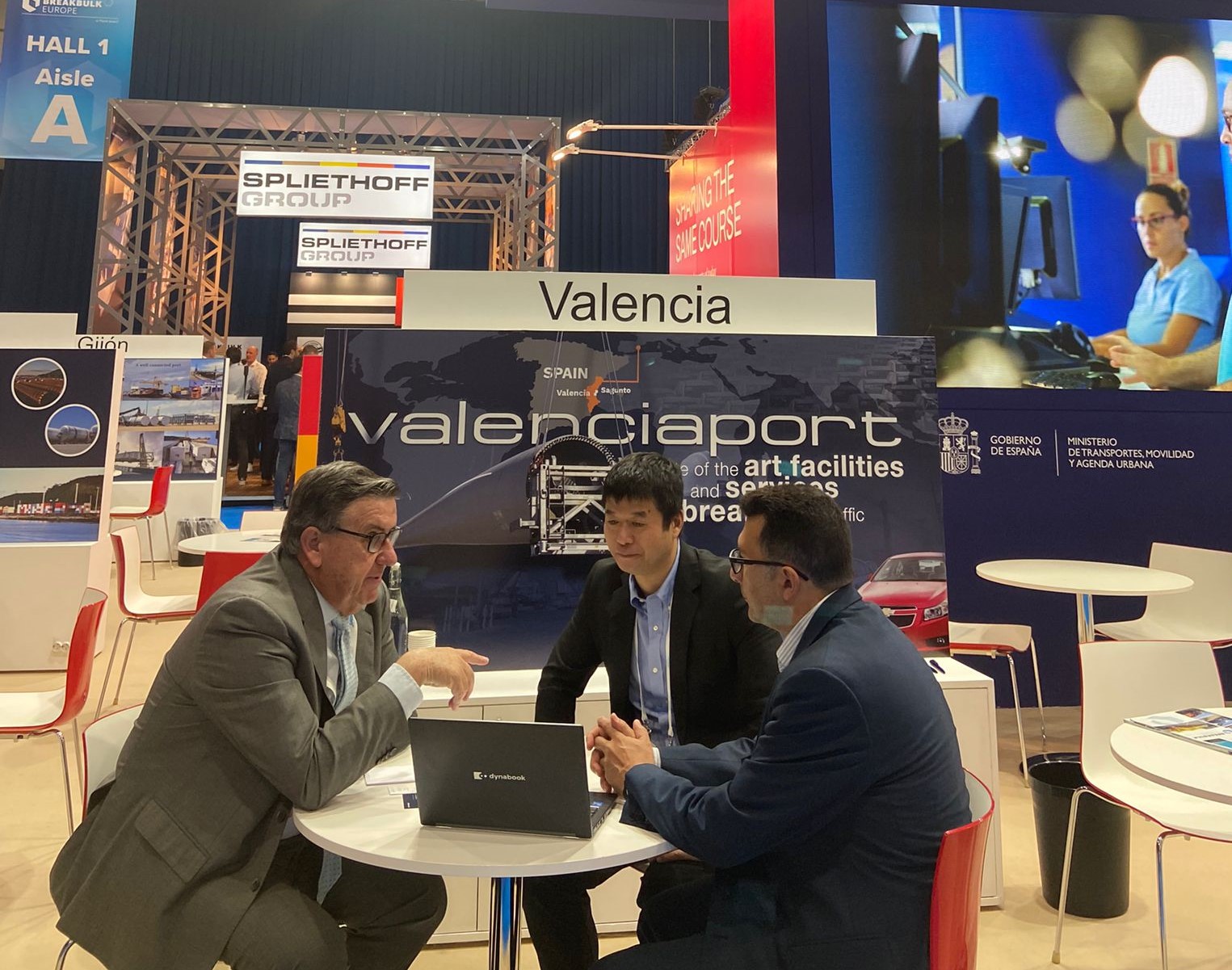 The delegation from the Port Authority of Valencia presented the characteristics of Valenciaport's enclosures for handling cargo of special dimensions and weights at the meetings it held
It has also highlighted the value of the infrastructures for managing road traffic. The Port of Valencia has doubled this type of traffic in 10 years, going from 5.8 million tonnes in 2012 to 12.8 million tonnes in 2021
València, May 18th, 2022.- Valenciaport is presenting its offer for road traffic and the competitive advantages for heavy and special cargo offered by the facilities managed by the Port Authority of Valencia (PAV) at the BreakBulk 2022 Fair being held in Rotterdam. The PAV delegation is maintaining an extensive agenda of contacts with logistics operators, shipping companies, manufacturers and intermediaries.
The PAV was represented by Néstor Martínez, head of Commercial and Business Development, and Manuel García, head of Business Development. The Valenciaport delegation gave a presentation on the characteristics of the three enclosures managed by the PAV, which currently handles 85 million tonnes of goods per year, 75% of which are containerised. Valenciaport, the fourth European port in TEU management and the first in Spain, is also the best connected port in the Spanish port system.
In addition, Valenciaport has moved a total of 12,885,760 tonnes of ro-ro traffic in 2021, making it the Spanish port that has moved the most goods through ships that load or unload products with their own wheels, such as lorries or industrial vehicles. The Port of Valencia has doubled this type of traffic in 10 years, going from 5.8 million tonnes in 2012 to 12.8 million tonnes in 2021. One of the keys to the boom in this intermodal transport is the promotion of the motorways of the sea, a network of fast and sustainable maritime routes that link the València and Sagunto precincts with the main logistics platforms in the Mediterranean and other areas of Europe.
At this fair, the PAV has highlighted the specialisation of the port of Sagunto for special cargo and the competitive advantages offered by the Sagunto docks in the short term for handling this type of goods. Valenciaport's facilities are highly competitive for goods of special dimensions and weights which are handled by specific cranes and qualified personnel.
The Port Authority of Valencia has attended this event together with Puertos del Estado at the stand where 18 other port authorities are participating under the slogan "Rumbo Compartido". BreakBulk Europe is the most important trade fair for bulk cargo, project cargo logistics and ro-ro in Europe and, with nearly 560 exhibiting companies from more than 120 countries, it is the perfect showcase for Spanish ports and port-logistic operators to show attendees the possibilities for handling and transporting any type of goods from Spain to any destination in the world.