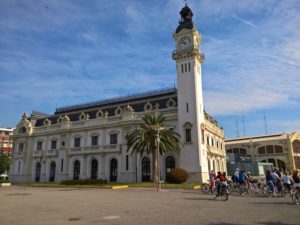 Until today, April 28, the PAV has paid 6.41 million euros to its suppliers in the ports of Gandia, Sagunto and Valencia and expects this figure to reach 51 million euros.
The PAV estimates that the reduction in rates will amount to 6.2 million euros.
València, April the 28th 2020.– The urgent and compensatory measures that will be applied in the Valencia Port Authority (PAV) in 2020 to mitigate the economic effects of COVID-19 will allow the economic-business fabric related to Valenciaport to have liquidity and an anticipated budget margin worth 57.2 million euros. This figure appears after the analysis carried out by the PAV technicians, taking into account what are the most pressing demands and needs for providers in the ports of Valencia, Sagunto and Gandia.
Among these measures, the payment of 250 companies in the port community stands out, to facilitate liquidity among the companies that carry out work for the ports of Gandia, Sagunto and Valencia. Until today, April 28, the PAV has advanced 6.41 million euros and anticipates that the advance payments to be made in 2020 will amount to 51 million euros at the end of the year.
The objective of this initiative is to make weekly payments until the end of the Alarm State with the aim of minimizing the treasury difficulties that the providers or service providers of the PAV may have.
Likewise, the reduction in rates derived from the Royal Decree-Law of April 21, 2020 will entail a decrease in rates for this year for an amount of 6.2 million euros, an amount that will not be deducted from the accounts of the companies, thus expanding their capacity to react to the economic effects of the coronavirus crisis.
For the calculation of the impact on the rate reductions affected by the application of Royal Decree-Law 15/2020, of April 21, of complementary urgent measures to support the economy and employment, its effect on the rate has been taken into account. of the T-1 ship, to the occupancy rate, to the adjustment for non-compliance with the minimum limit of the activity rate and to the penalties for minimum traffic.
Specifically, for the calculation of the rate of the T-1 ship, the average daily income from January 1 to April 8, 2020 has been valued and the 50% reduction has been applied from April 23 to the average daily amount of short-distance ro-ro ships and 10% to other ships. Regarding the occupancy rate, the calculation has been made on the average daily amount for this rate in 2019, applying from April 23 a 60% reduction to the daily amount of passenger terminals and 20% to the rest of terminals. Likewise, the calculation made by the PAV includes a 10% decrease in the activity rate compared to the 2019 registrations as well as the elimination of the penalty for minimum traffic.