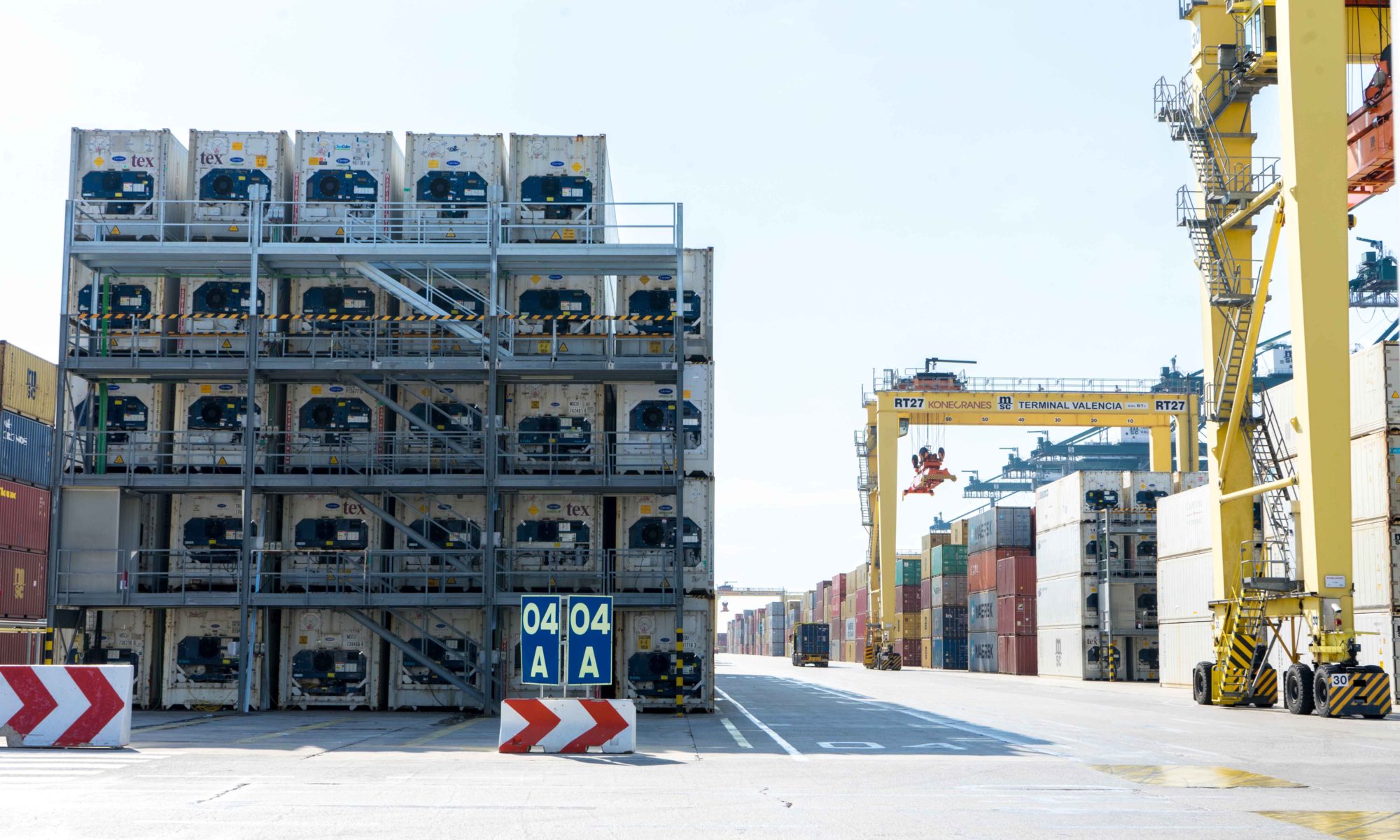 The Port of València handled more than two million tonnes of agri-food products during the first three months of the year. Exports recorded an increase of almost 40%
Valenciaport has 3,000 connections for refrigerated containers as well as refrigerated warehouses for perishable products
China, the United States, Brazil, Canada and Saudi Arabia are the main destinations for Valencian and Spanish agri-food products
The port community is making important investments to guarantee the traffic of perishable products from Valenciaport's docks
València, April 26th, 2021.- In the first quarter of the year, Valenciaport's docks handled the entry and exit of 2,197,233 tonnes of products from the agri-food and agriculture sector, 13.88% more than in the same period in 2020. Of this total, 51.5%, 1,133,525 tonnes, corresponds to sales abroad by Spanish industry to different parts of the world. This figure represents an increase of 40% compared to the first three months of 2020 and is a sign of the dynamism of the agri-food sector, which has in Valenciaport the strategic port of entry and exit of its goods.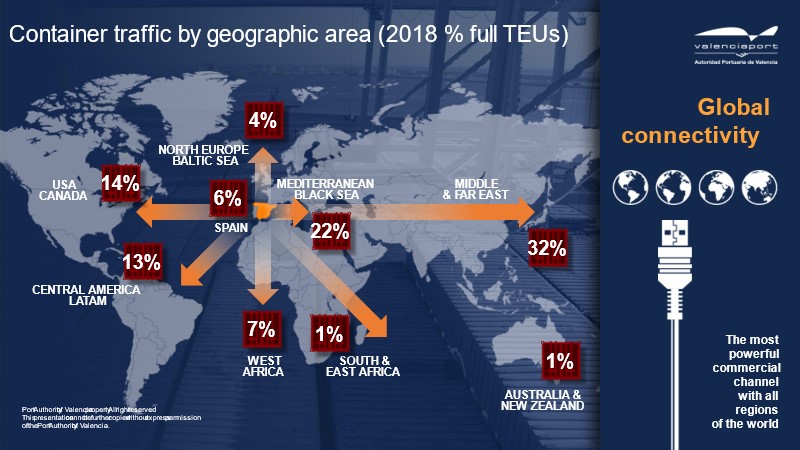 Oranges, lemons, meat products, onions, garlic, leeks, pulses, wines, potatoes, lettuce, chocolates or quinces are some of the main fresh fruit, vegetables and other foodstuffs that leave the Port of Valencia every day for one of the 1,000 ports with which the Valencian docks are connected to leave Valencian and Spanish products to be consumed in Asia, North America or Oceania. An industry, the agri-food industry, which has positioned itself as an engine for the generation of employment and which is contributing to the activation of the Spanish economy, and which has in Valenciaport its main ally to continue growing.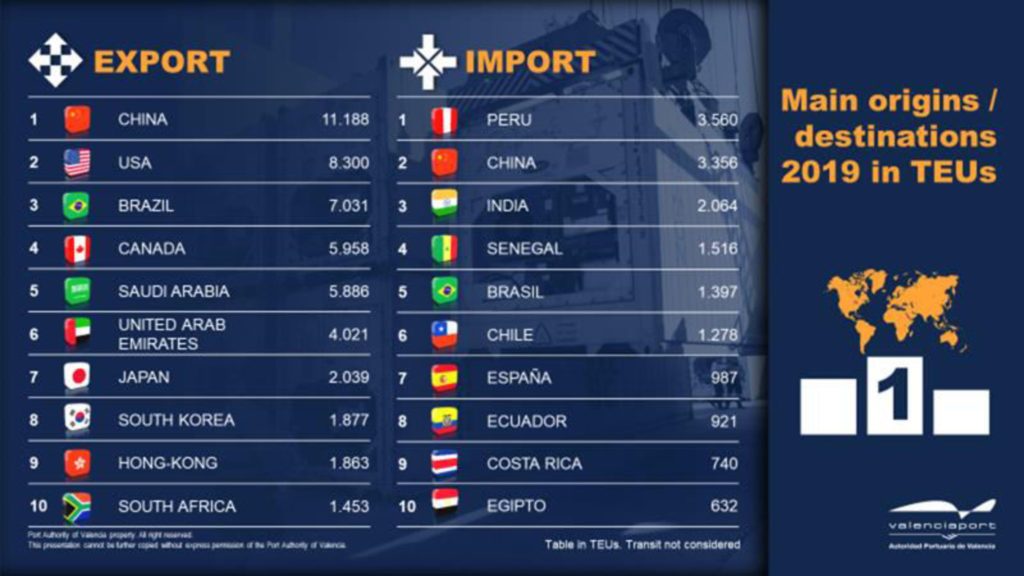 Valenciaport is a fundamental port for the industry which is confirmed year after year in the port community's commitment to provide the necessary services and instruments to facilitate the movement of both non-perishable and perishable agri-foodstuffs. In the latter case, refrigerated maritime transport is carried out in reefer containers, which are equipped with a refrigerated engine that allows the transport of temperature-sensitive goods such as fruit, vegetables, fish or meat, but also other products such as chemicals or pharmaceuticals.
According to the latest data from Valenciaport, China, with 11,188 refrigerated containers, leads Spanish fresh produce exports, followed by the USA with 8,300 TEUs, Brazil with 7,031, Canada with 5,958 and Saudi Arabia with 5,896. It is this reefer traffic, which departs from the docks of Valenciaport, which allows you to drink a wine from Utiel-Requena in a Japanese restaurant in Tokyo, enjoy a Valencian orange in a supermarket in New York, find garlic from Castilla-La Mancha in a greengrocers in Toronto or enjoy a salad with tomato from the Murcian market garden in Dubai.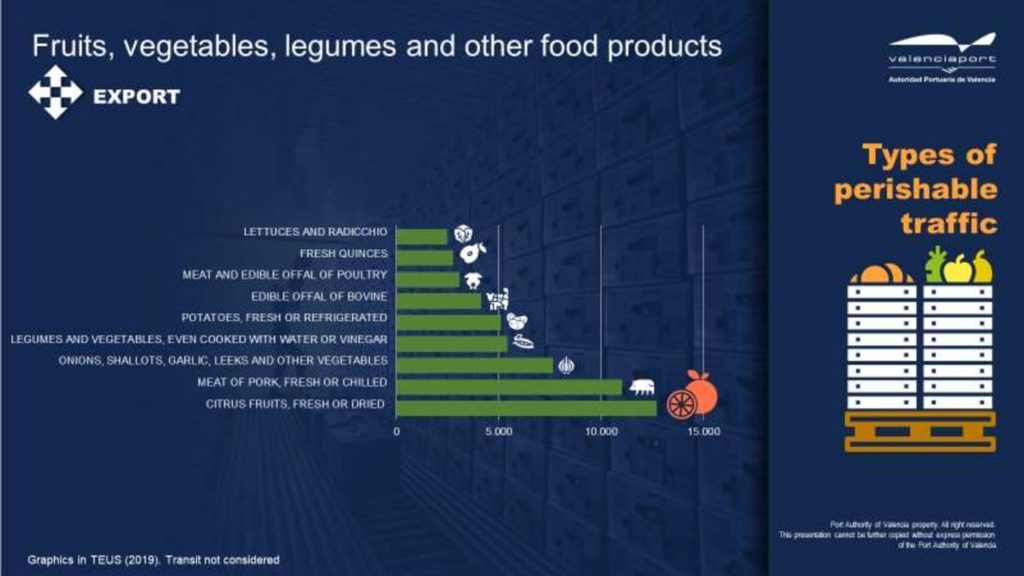 Commitment to reefer traffic
To this end, it is important that the port community of Valenciaport is making a commitment to facilities and services that allow the cold chain to be maintained for these products that leave and enter through València. In this regard, it is worth highlighting the investment in reefer traffic being made by the three main shipping lines in the world which have a presence in the port of Valencia through their three container terminals (Maersk, MSC and Cosco). Specifically, the CSP Iberian terminal has 1,500 reefer connections, APM has 750 connections for this type of container while MSC has 576 connections. In addition to these infrastructures, there is the Agro Merchants Group warehouse, which has 16,000 m2 devoted exclusively to the logistics of refrigerated products, and the 17,000 m2 border inspection post which, through the Guarantee Mark, guarantees that any container taken to these facilities must be checked in less than 45 minutes.
Along these lines, MEDLOG, a business extension of the MSC group, is going to develop a logistics warehouse in the ZAL specialising in cold container transport for frozen and refrigerated products, for which it plans to invest 35.76 million euros. The announced employment is 25 direct jobs and 500 indirect jobs.  A commitment to refrigerated traffic where intermodality is important, hence the importance of having a rail service for this type of product such as the one set up by MEDLOG to link Valencia with Zaragoza with a frequency of two trains a week. 
Exports, key for agri-food companies
According to the latest data from the Statistical Bulletin of the Port Authority of Valencia (APV), corresponding to the month of March, 1,133,525 tonnes of agri-food products left the docks of Valencia for export, 39.79% more than in the first quarter of 2020 – when the Spanish and world economy was not yet conditioned by the COVID-19 pandemic.
Within the agri-food industry, wines, beverages and derivatives mobilised for export between January and March a total of 424,595 tonnes, 48.15% more than in 2020. This was followed by other food products, with 263,504 tonnes and a growth of 48.18%.  This was followed by oils and fats, with 109,233 tonnes and an increase of 32.18%, followed by fruit, vegetables and pulses with 98,567 tonnes and a decrease of 13.5%.