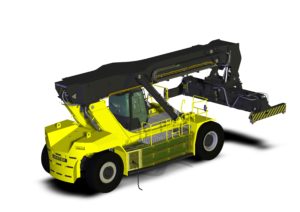 The Port of València will be the first port in Europe to incorporate hydrogen technologies to reduce the environmental impact of its operations
This pilot is expected to operate for two years at MSC Terminal Valencia
València, April 23rd, 2021.- The hydrogen Reach Stacker is in development at Hyster as part of the H2PORTS project for the Port of València. This Reach Stacker, that will be powered by fuel cells, is expected to be tested during 2 years after arrival at MSC Terminal Valencia in real life operations. For refuelling they will count on the mobile Hydrogen Refuelling Station, developed by CNH2, that will guarantee the supply of this fuel in suitable conditions both for this pilot and for the 4×4 terminal tractor that will be proved at Valencia Terminal Europa, part of Grimaldi Group, also powered by fuel cells.
Once fully developed, the Hyster Reach Stacker with a fuel cell is expected to offer comparable performance to a diesel truck in terms of capacity and lift and driving speeds, helping to support similar productivity levels, and will feature independent traction and hydraulics with different electric motors to serve different functions.  When matched with the right application and operating intensity, Hyster expects that the Reach Stacker with a fuel cell will provide up to one day of operation before an H2 (hydrogen) refill is required. For convenience and flexibility, the Hyster Reach Stacker in development is intended to comply with the standard H2 filling station connection (SAE standard), enabling global use. The design target includes four H2 tanks as the standard option for storing H2 within the Reach Stacker.
Hydrogen is a clean energy carrier with the benefits of easy storage and when used produces no emissions other than heat and water. The hydrogen fuel cell converts H2 to electricity and acts as a range extender for the Reach Stacker. The resulting Reach Stacker is a zero emission equipment that, if combined with the use of green hydrogen, is also carbon neutral. The technology shows some advantages compared to other available zero emission technologies like pure electric versions. The solution with hydrogen and Fuel Cell is more compact for the same requirements (a battery pack for the Reach Stacker would need to be almost as big as half the truck to work for an entire day) and it allows quicker refuelling (refilling of the H2 tanks can be done in as little as 10-15 minutes), both of them making the difference from the operational point of view.
H2PORTS
The European project "H2Ports – Implementing Fuel Cells and Hydrogen Technologies in Ports" is an initiative coordinated by Fundación Valenciaport in close collaboration with the Port Authority of Valencia and financed by the Fuel Cell and Hydrogen Joint Undertaking (FCH JU) programme. Its main objective is to test and validate hydrogen technologies on port machinery that allow to have applicable and real solutions without affecting the performance and safety of port operations and producing zero local emissions.
The H2Ports project will entail a total investment of 4 million euros and involves, in addition to Fundación Valenciaport and the Port Authority of Valencia, the Centro Nacional del Hidrógeno, and the private companies MSC Terminal Valencia, Grupo Grimaldi, Hyster-Yale, Atena Distretto Alta Tecnologia Energia Ambiente, Ballard Power Systems Europe and Enagás.
Thanks to this initiative, the Port of València will be the first port in Europe to incorporate hydrogen technologies to reduce the environmental impact of its operations.
Fuel Cells and Hydrogen Joint undertaking (FCH JU)
This public-private partnership is the European body promoting the adoption of hydrogen as a low-emission alternative and is supported through the European Union's Horizon 2020 Research and Innovation programmes, Hydrogen Europe Research and Hydrogen Europe.