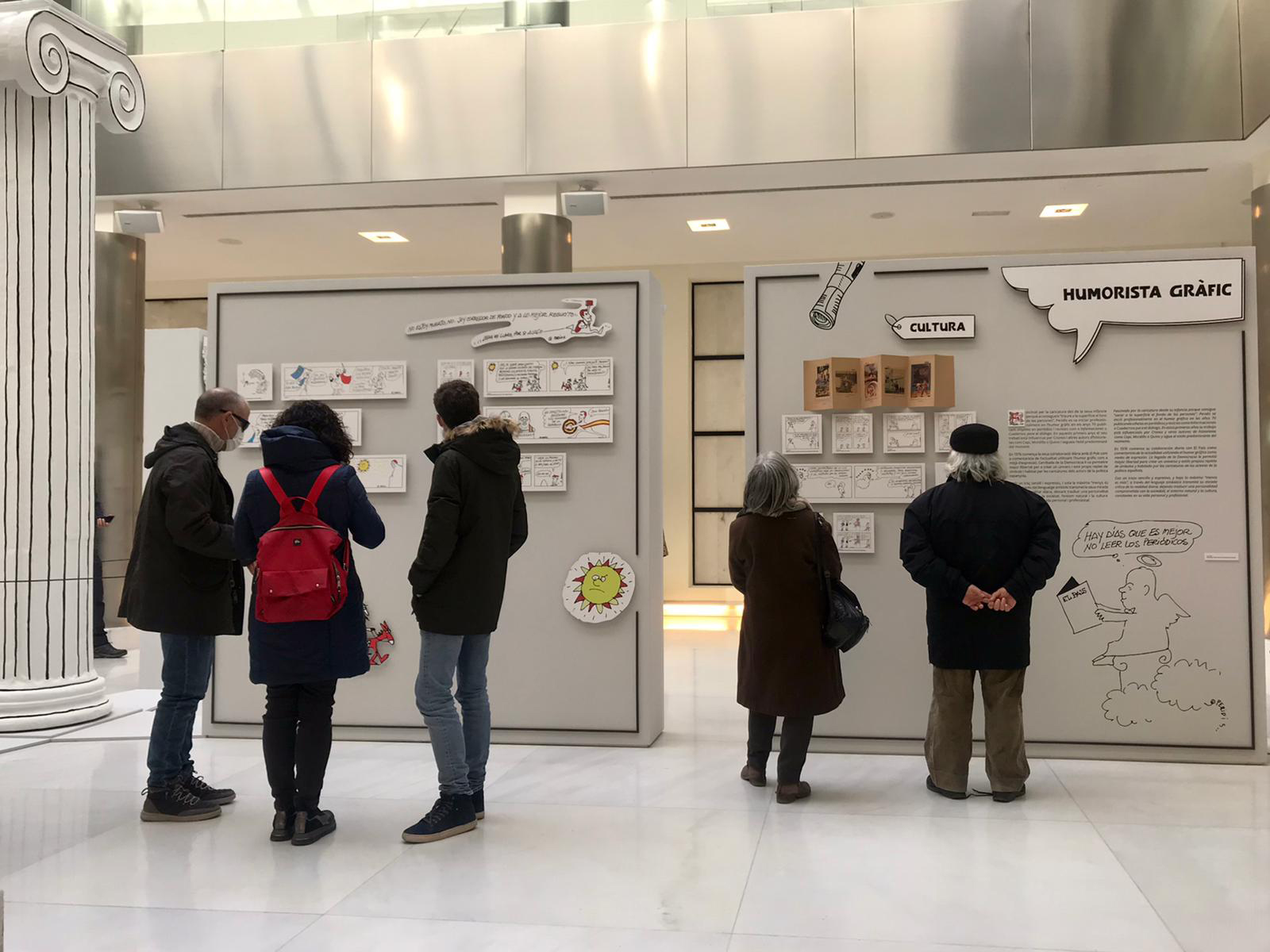 The exhibition on the cartoonist will remain in the Clock Building in the Port of Valencia until 31 January
It can be visited from Monday to Sunday between 11.00 and 18.00
València, January 12th, 2021.- More than 3,000 people enjoyed the humour of José María Pérez, Peridis, during the Christmas season in the exhibition that the Port Authority of Valencia (PAV) is dedicating to the graphic humorist in the Clock Building. Political satire, simple strokes and a very particular irony that are shown in the more than 80 vignettes exhibited in the exhibition. A space that reflects a journey through the career of the cartoonist, writer and architect who has been illustrating the current affairs of our world for over 60 years with a stroke of pencil and ingenuity.
The exhibition, organised by the PAV in collaboration with the Quevedo Institute of the Arts of Humour of the Foundation of the University of Alcalá, can be visited until 31st January in the Clock Building of the Port of Valencia, with free entry from Monday to Sunday from 11.00 to 18.00 hours.
Throughout the exhibition you can discover some of his most representative cartoons since he began his career as a cartoonist in the Diario SP in 1967, passing through the pages of Informaciones, Cuadernos para el Diálogo and especially in the newspaper El País since its beginnings in 1976.  The exhibition, with an average of over 1,000 visits per week, also includes the work of Peridis as an architect, writer or social entrepreneur.
Visitors who come to the Clock Building will find the column in which former president Adolfo Suárez climbed in the centre of the exhibition. Accompanying this iconic image are various illustrations by José Luis Rodríguez Zapatero, Donald Trump, Mariano Rajoy and Pedro Sánchez, and references to his professional friends such as Forges, among other prominent figures.
Also on display are his projects as an architect and his collaboration in the dissemination and restoration of different buildings that are representative of our cultural heritage. This is a look at the work of a multifaceted and committed person, in which he explains, also with audiovisual elements, both the creative process of his vignettes and his project for Employment and Social Entrepreneurship Shuttles or his work in cultural dissemination.
The Clock Building recovers its role as a cultural centre
In recent years, the PAV has recovered the role of the Clock Building as a cultural centre at the service of citizens. To this end, it has developed a wide range of exhibition work, mainly on themes related to port activity, which has attracted a remarkable number of visitors.
In total, nearly 50,000 people have come to visit some of the exhibitions held so far in the Clock Building, among them those dedicated to Ortifus which reached 11,000 visitors or the vision of the port and maritime activity of Forges which exceeded 12,000 visits.