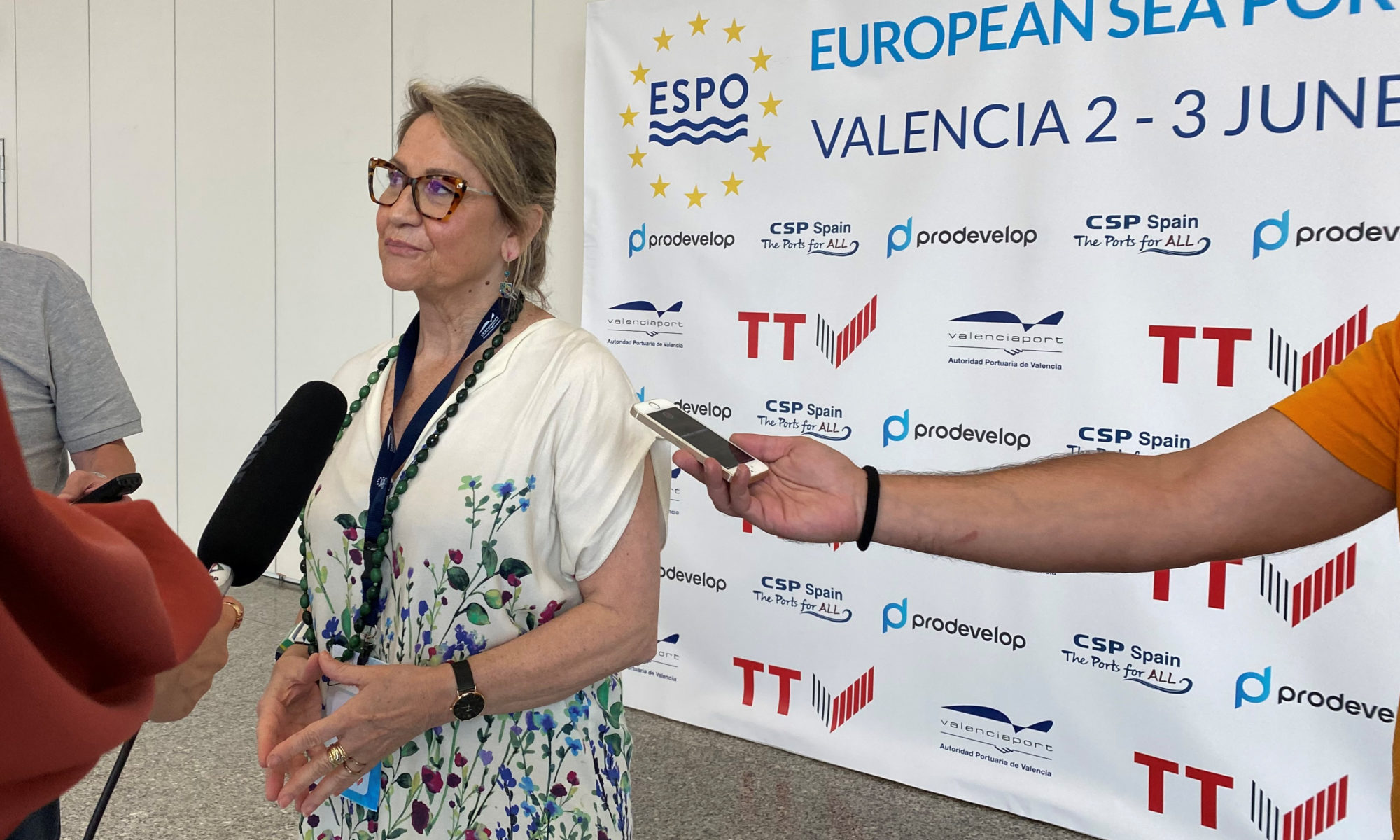 The Socialist MEP, Inmaculada Rodríguez Piñero, said today at the European Sea Ports Organisation (ESPO) Conference that the parliamentary groups are gathering support to approve an amendment to the measures to implement the Emissions Trading System (ETS) for maritime transport
The amendment calls for transport in ports up to 300 miles away from EU ports to be included in the payment of emission allowances
In addition to achieving the objective of decarbonisation, with this amendment we avoid the creation of environmental havens in non-EU areas, diverting traffic and displacing economic activity and employment from our ports to other ports where they do not have to pay emission rights"
The 'Fit for 55' package envisages, among other actions, that shipping companies will pay 100% emission rights for journeys between EU ports and 50% for journeys to and from the EU
València, 3th June 2022 – "We have achieved majority consensus in the European Parliament to design a model of emission neutrality in maritime transport that meets its objective and does not penalise EU ports, traffic or the jobs they generate". This was stated today by Inmaculada Rodríguez Piñero, Socialist MEP in the framework of the European Sea Ports Organisation (ESPO) Conference, explaining that support is being sought for the vote that will take place in the European Parliament next Wednesday on the amendment to the measures for the implementation of the Emissions Trading System (ETS) for maritime transport included in the European Union's legislative package 'Fit for 55'.
The amendment, drafted by the various parliamentary groups, calls for the payment of emission allowances to include transport in ports within 300 miles of EU ports. "In addition to achieving the objective of decarbonisation, with this amendment we avoid the creation of environmental havens in non-EU areas, diverting traffic and displacing economic activity and employment from our ports to other ports where they do not have to pay emission rights", explains the MEP.
Environmental havens, loss of activity and connectivity
The 'Fit for 55' package envisages, among other actions, that shipping companies will pay 100% emission rights for journeys between EU ports and 50% in the case of journeys to and from the EU. For the Port Authority of Valencia (APV), the proposal, as it is currently designed, will have a "null" impact on the global reduction of emissions in the maritime sector, and may even worsen the situation. In addition, it will lead to a reduction in activity and a loss of connectivity of European ports which will result in an undermining of the competitiveness of the exports of companies.
"The impact on the reduction of greenhouse gases is nil as the programme is designed. It does not solve the problem, it simply relocates it. The decarbonisation objective is not achieved as there will be carbon leakage from ships going to environmental havens in non-EU ports, with all that means for economic activity. We need this amendment to be approved so that this does not happen", added Aurelio Martínez, president of the Port Authority.