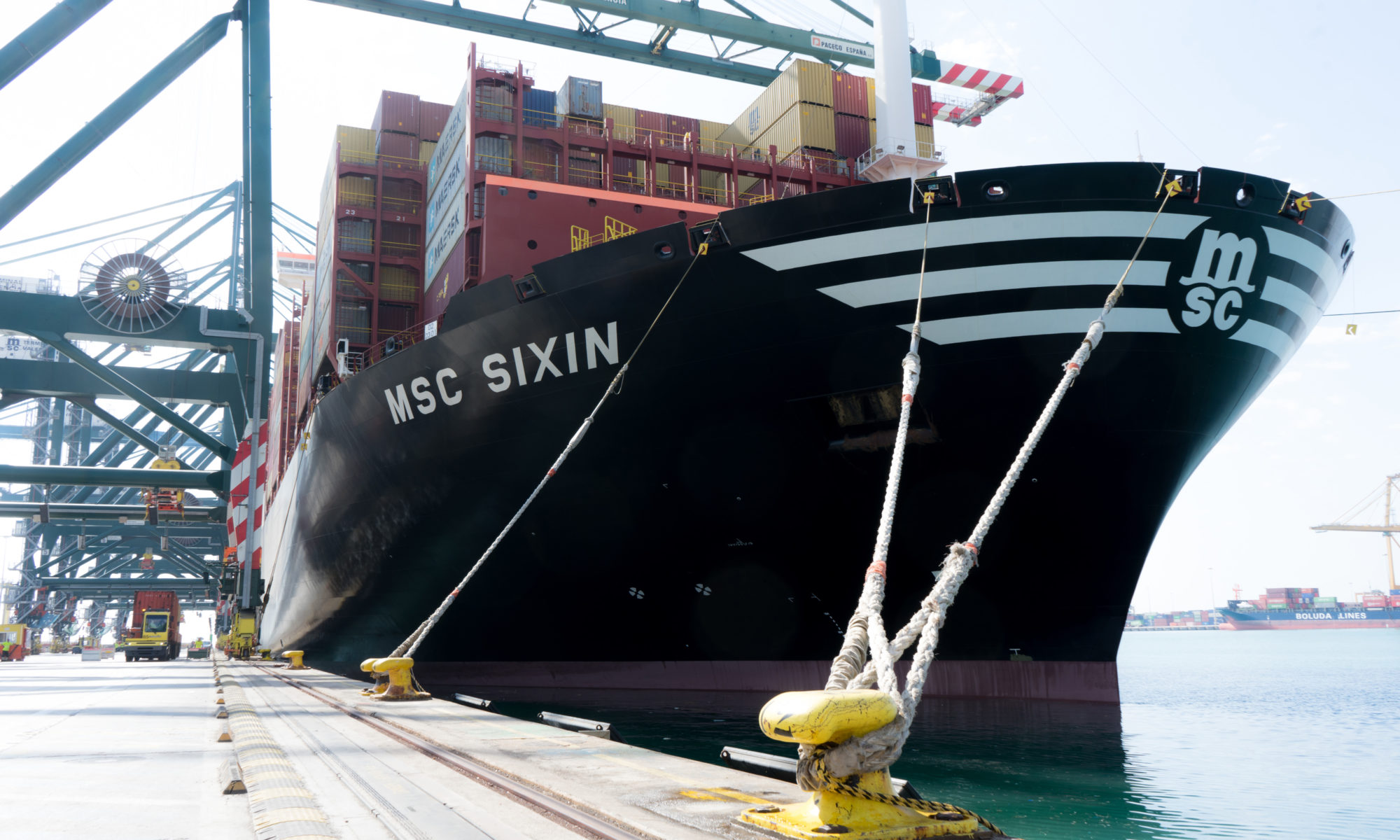 The MSC SIXIN moves 8,701 containers (TEUs) in a single stop. It was carried out between 27 and 30 August at the Port of Valencia
This is the first time that over 8,000 TEUs have been exceeded. Specifically, 3,304 import TEUs were unloaded and 5,397 export TEUs were loaded at the MSC Terminal Valencia facilities
The operation generated 700 days of dockworkers' work (for loading and unloading work 50 "hands" or stevedoring teams of 14 people each were required)
València, September 8th, 2020.- A total of 8,701 containers loaded and unloaded from a single ship and in a single stopover. This is the new record of movements managed in the Port of Valencia by a single ship in a single visit. The figure was reached between the 27th and 30th of last month during the call made by the container ship MSC SIXIN. Specifically, 3,304 unloading containers and 5,397 cargo containers were handled at MSC Terminal Valencia.
The record of the Port of Valencia has been registered by MSC SIXIN in its second visit to the Valencian terminals. The MSC SIXIN is also the ship with the highest capacity that has docked in the Port of Valencia, together with its "brothers of the GULSUN class", such as MSC GULSUN itself, which are beginning to become commonplace in Valencia.
This is the first time that an operation of the Port of Valencia exceeds 8,000 containers. With the maximum registration of 8,701 TEUs (Twenty Equivalent Unit, or 6.1 metre containers) achieved by MSC SIXIN, the previous figures of movements which were over 7,000 TEUs reached previously by the vessels of the same company are exceeded: MSC London, MSC Venice, MSC Istanbul, MSC Hamburg and MSC New York.
The 8,701 containers managed by MSC Sixin represent a commitment by the company to the Valenciaport facilities and is a symptom of economic recovery, as already reflected in the Valencia Containerised Freight Index (VCFI) for August, which recorded an increase of 1.33% over the previous month. The MSC Sixin operates the Jade maritime service between Asia and Europe.
Reducing the carbon footprint: less CO2 per container transported
The MSC Sixin, 400 meters long and 61 meters wide, has a capacity of 23,756 TEU and a design that prioritizes the environment and efficiency. It docked for the first time in the Port of Valencia in June 2020, thus becoming the largest capacity vessel calling at the Valencian port.
The MSC Sixin has the telematic connection of "digital containers", has more than 2,000 connections for refrigerated containers and a design that allows a significant reduction in CO2 for each container transported compared to the average of container ships operating today, which helps companies moving goods on MSC services between Asia and Europe to reduce the carbon footprint of their supply chains. This type of ship reinforces Valenciaport's commitment to sustainability and is in line with the aims of the Valencia Port Authority to reduce carbon emissions and reach 2030 with a balance between production and consumption of renewable energy.