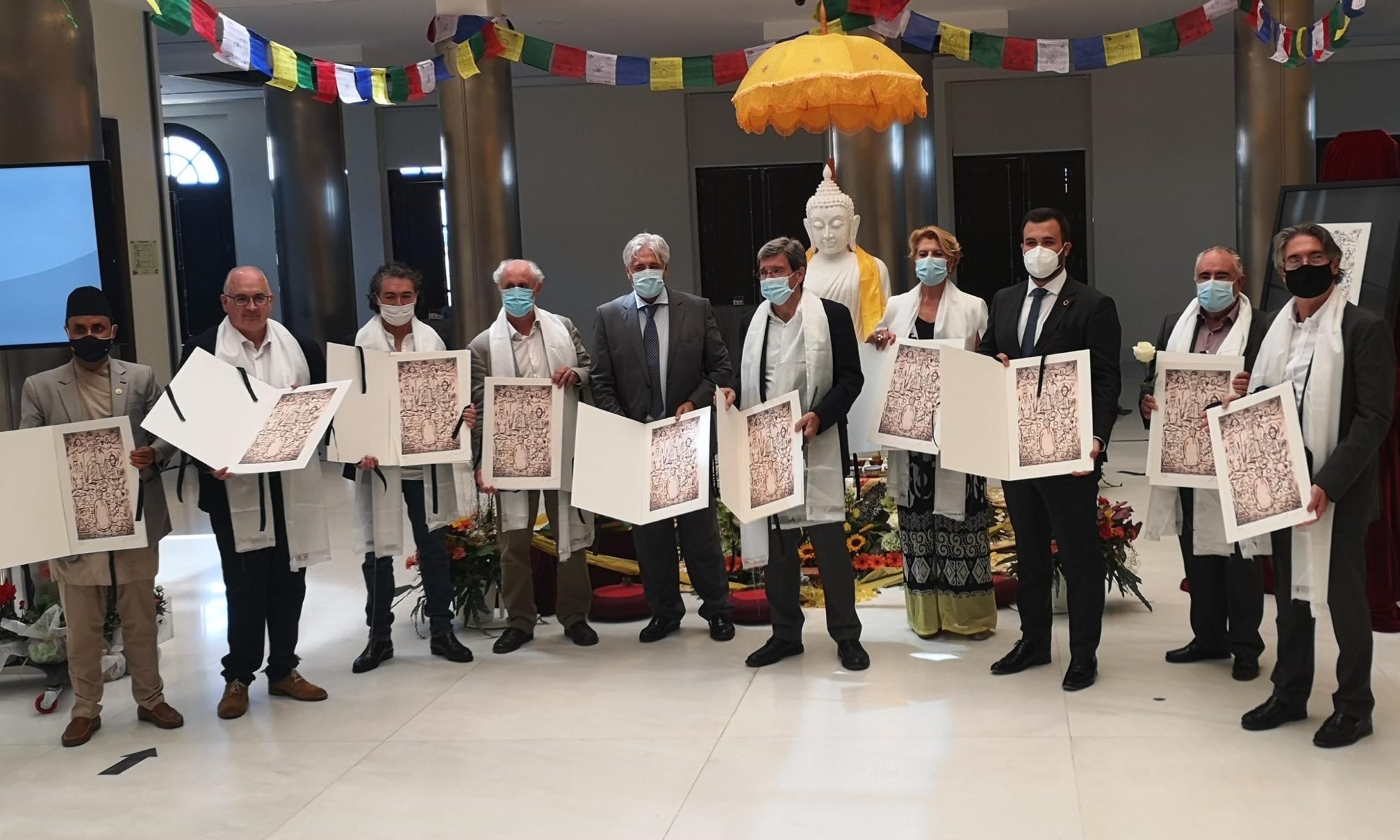 Valencia is the gateway to Asia for products from the golden century of Valencian silk to the present day thanks to the maritime connection
The President of the PAV took part in the presentation organised by the Lumbini Garden Foundation on the occasion of the Buddha sculpture on display in the Clock Building
València, September 8th, 2020.- The President of the Port Authority of Valencia, Aurelio Martínez, has highlighted the strategic role that Valencia plays "in the commercial relations between Asia and Europe, especially since the golden century of Valencia with the Silk Route and now through the maritime connection that links Valenciaport with the main Asian ports".
The President of the PAV attended the reception organised by the Lumbini Garden Foundation on the occasion of the sculpture of the Buddha Mahar Karuna which is on display these days in the Clock Building of the Port of Valencia. Martínez pointed out that "this event is an example of collaboration between ports with other countries and cities, and they are highlighting port activity as entry points for commercial relations but also for the culture and customs of all corners of the world".
During his speech, the President of the PAV stressed that "for five centuries the Silk Route was fundamental for the Valencian economy, with textiles being the main economic activity. It was the Velluters guild that built the Valencia Fish Market. This event, which links Valencia once again with this thousand-year-old route, strengthens us to continue strengthening economic, political, cultural and commercial ties between Europe and Asia". In this sense, the commercial activity between Valenciaport and the regions of the Silk Route represents more than 50% of the goods traffic of the Port of Valencia.
The President of the Lumbini Garden Foundation, José Manuel Vilanova, the Mayor of Cáceres, Luis Salaya, and the representative of the Foundation Board and Commissioner for Painting, Antonio Camaró, Luis Cueto, took part in the event. The President of the National Assembly of Nepal, Ganesh Timilsina, the Mayor of the Nepalese city of Lumbini, Man Mohan Chaudary, and the General Manager of the Ma Lwin Group Co.
From Valencia to Cáceres
Last Sunday 31st August a replica of a giant Buddha disembarked in the Port of Valencia, leaving from the Port of Thilawa (Myanmar, formerly Burma) on the 2nd August with final destination Cáceres. The ship Ain Snan, of the Uasc company, was responsible for transporting the piece by sea to Valencia, covering the 9,383 km distance that separate us from the Burmese port, along the thousand-year-old Silk Road.
It is a gift that the Lumbini Garden Foundation has made to the city of Cáceres, where the largest Buddhist temple in Europe is to be built, and which will remain on display for a few days in the Clock Building in the Port of Valencia.
The religious figure, property of the Lumbini Garden Foundation and whose name is Mahar Karuna Buddha, is an exact replica of the Great Buddha of 40 metres. The replica is 2 metres high, weighs two tons and is made of Burmese white jade.