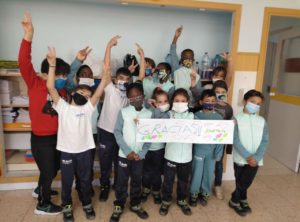 The pandemic has made the CSR work carried out by Aportem in the Port of Valencia more necessary than ever.
Distribution of food, school materials and clothing are some of the actions of the association, which has doubled its budget in 2020.
The COVID-19 pandemic has made the CSR work carried out by Aportem in the Port of Valencia more necessary than ever, a period of special activity to meet the maximum number of requests for collaboration received in these times of crisis. Once again, the port community has responded to this challenge by adapting its actions and services to meet all the demands.
The Board of Directors and the General Assembly held these days by the Association have served to review all the activity carried out in 2020 and to highlight the value of the actions in support of the most vulnerable people in the port environment. Proof of this are the 2020 accounts, which have highlighted this important added effort. Thus, the initial budget for last year has finally been multiplied, going from the 28,000 euros initially budgeted to the 63,210 euros that have finally been invested in Social Responsibility in the Port of Valencia.
The calculations of Aportem-Puerto Solidario Valencia estimate that this investment has had an impact on aid of a much higher value. The amount reflected in the final budget for 2020 includes the cost of food, school materials, clothing, footwear and anti-covid products. The budget does not include all the management work, needs analysis, purchases, vans, drivers, fuel, etc., as the members of Aportem take care of these tasks in a completely altruistic way.
More aid than ever
As a result, more requests for support than ever before have been dealt with. Thus, in the area of food, breakfast and snacks have been provided to 175 primary school pupils. The pandemic has also led to a greater commitment to the families in the surrounding area, with the distribution of food vouchers to more than 200 families, as well as the direct delivery of food and cleaning supplies to another 300.
In terms of school materials, Aportem has equipped 829 primary school children in five schools in the Marítimo area. In addition, it has also donated equipment to 75 pre-school pupils. The clothing and footwear section has once again played a prominent role in Aportem's actions. Between trainers and sportswear, 934 children have been attended, without counting educational toys, towels, blankets or thermal T-shirts, especially necessary in these days when classrooms need additional ventilation.
Anti Covid
In addition to its day-to-day work, Aportem has had to open, with the arrival of COVID-19, a new front in 2020 to support safety and hygiene protocols. Masks, hydroalcoholic gel, paper rolls, thermometers and disinfectant have been permanently distributed among the schools and associations with which Aportem works. More than 800 children have been able to count on this support in the fight against the virus.