Other Reports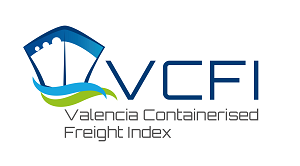 The VCFI is the index created by the Port Authority of Valencia to reflect the evolution of the market rates for the export of full containers by sea from Valenciaport. VCFI stands for Valencia Containerised Freight Index. This index will serve shippers as a tool to predict the evolution of freight rates within their markets of interest, which is a key determinant of the cost of their export operations. On the other hand, it will also be useful for operators that offer such services, providing a benchmark for the evolution of their own freight rates and those on the market.
| wdt_ID | Año | Fecha | Índice VCFI | Variación mensual | Variación acumulada |
| --- | --- | --- | --- | --- | --- |
| | Año | | | | |
The Valencia Containerised Freight Index (VCFI) for December grew by 4.19% month-on-month, confirming the trend over the last five months of the year for the increased prices in export containers from Valenciaport. Thus, freights ended 2020 with a new historic high, reaching 1423.2 points, representing an increase of 42.33% since the start of the series in January 2018.
This is due to the high worldwide demand for containers in recent months, according to the most-recent RWI/ISL figures drawn up by the Leibniz Institute for Economic Research. Further, this rise in freights is especially defined by the invigoration and movement in some markets and commercial routes that have made demand shoot up, leading several maritime operators to turn down bookings to China at the beginning of the month (Alphaliner). Indeed, between the end of November and start of December the Shanghai Containerized Freight Index (SCFI) experienced a 44.4% increase in freight between Shanghai and northern Europe. On 4 December, it reached a historic high since the series began in October 2009. This fact has engendered a widespread paucity in 40-feet containers for large shipping carriers, which has impacted export prices.
Thus, due to demand pressures, idle fleet levels have shrunk greatly in recent months. In this regard, the world fleet of inactive container ships was situated at 158 in December, which accumulated 655,984 TEU, representing 2.8% of total active ships, according to the latest Alphaliner study from 7 December. Other factors directly related to shipping companies' operating costs also showed a bullish trend in December. On the one hand, the Europe Brent average price per barrel grew by 15.93% compared to November, jumping from 42.60 to 49.49 dollars in December alone. On the other, bunkering prices (ships refuelling at sea) for IFO380 (Intermediate Fuel Oil) and VLSFO (Very Low Sulphur Fuel Oil) also grew in the last month of the year. In fact, it was in November when these fuel prices started to increase again, after price stabilisation occurred in September and October, although they are still far from those of the previous year.
With regard to freight behaviour by regions in December, a growth in 10 of the 13 regions analysed in the VCFI merits mention. Levels contracted only in the East Coast of Africa (-0.35%), Central America and Caribbean (-0.63%) and Pacific Latin America (-2.26%), although the latter two were preceded by steep increases in November above 10% and 5%, respectively. In all other regions, there was heightened market intensity along the entire trade route between the Mediterranean and Asia and the Far East (+15.18%), Middle East (+12.06%) and the Indian Subcontinent (+13.58%). We must also point out the increase in the export container rate from Valenciaport with Atlantic Latin America (+10.81%), a region that saw price drops throughout the year, the only area that was situated below 800 points for a good part of 2020. A similar situation occurred in Atlantic Europe and the Baltic Countries, where freights started to grow after six months of stability.
VCFI Western Mediterranean
| wdt_ID | Año | Fecha | Índice VCFI | Variación mensual | Variación acumulada |
| --- | --- | --- | --- | --- | --- |
| | Año | | | | |
With regard to the sub-index for the Western Mediterranean, the series changed signs again in December, returning to strong growth, +11.68%, revealing the volatility once again of freights in the countries in this market. Thus, the year kicked off with a steep increase of 11.57%, due to the costs associated with the entry into force of the new regulation IMO 2020. However, after this initial growth, prices triggered decreases in the following months and very little stability in the second half of the year, with continuous changes in trend. Further, Valenciaport traffic with Morocco continues to be much higher year-on-year, despite suffering a slight setback in November (latest figure available). On its part, Algeria recorded an evolution in export traffic from Valenciaport very similar to that of 2019, with a slight rise in November.
VCFI Far East
| wdt_ID | Año | Fecha | Índice VCFI | Variación mensual | Variación acumulada |
| --- | --- | --- | --- | --- | --- |
| | Año | | | | |
With regard to the sub-index in the Far East, it experienced the greatest growth of the last eight months in December, with a rate of 15.18%. Thus, a chain of five consecutive months of increases in freight levels, standing at 2763.37 points, reaching a new historic maximum since the series started in 2018. On this occasion, as mentioned, the great demand in traffic with China is translating into strong freight growth throughout the world. This situation also occurred in Valenciaport, where export traffic towards China increased in November by a figure much above its behaviour in the same month last year.