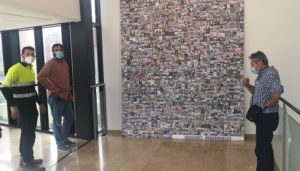 The PAV building will permanently exhibit the mural that collects the 1,900 photographs sent by 1,000 people
The Port Authority of Valencia (PAV) has agreed to preserve and exhibit in its own installations the large panel of 1,900 photographs that collects all the "Imborrable Images" that a thousand citizens sent to the Port of Valencia to organise the exhibition on the COVID-19 pandemic that closed on the 12th October last. Photographs that show the day to day life of the health or emergency personnel, experiences and experiences during the confinement or de-escalation phases, in which anyone can feel identified.
The sample registered more than 7,000 visits and has achieved wide national and international repercussions. The Valenciaport website will continue to show a selection of 800 of these photographs and a downloadable pdf catalogue with the 200 photos on display at the exhibition.
In addition, the PAV has moved the large panel containing all the photos received to its headquarters as a souvenir of the exhibition and as a permanent tribute to all those who are fighting to overcome the consequences of this virus.