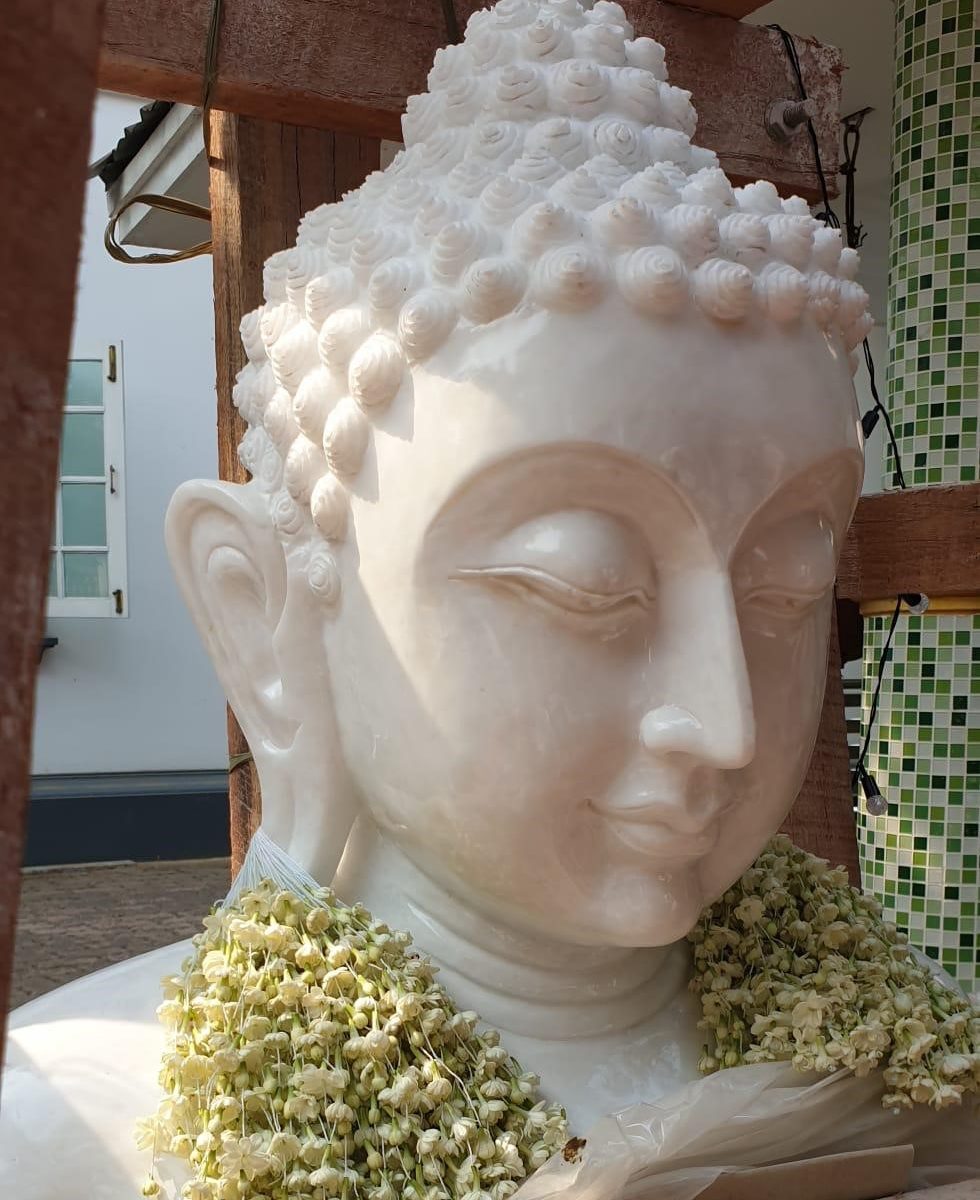 The sculpture of Mahar Karuna Buddha arrived at the Port of Valencia last Monday, from Myanmar; and it is a gift that the Lumbini Garden Foundation is making to the city of Cáceres, where it will invest 72 million euros to build the largest Buddhist centre in Europe
Until September 9, the religious figure will remain in Valencia, in the Port Clock Building, and can be visited by the public with all the required health security measures
València, September 2nd, 2020.- Last Monday, August 31st, the sculpture of the Buddha that the Lumbini Garden Foundation plans to install in Cáceres landed in the Port of València, as an emblematic piece of the great Buddhist centre that this institution will raise in the city of Extremadura. The figure departed a month ago from the port of Thilawa (Myanmar, formerly Burma) to Valencia, before its final location in Cáceres. The ship Ain Snan, from the company UASC, has been in charge of moving the piece by sea to the Valencian docks, thus covering the 9,383 km distance that separates us from the Burmese port, a route integrated into the millenary Silk Route.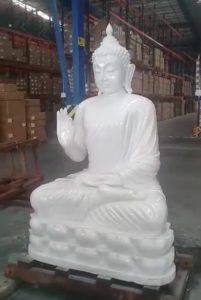 The statue is a gift that the Lumbini Garden Foundation has made to the city of Cáceres, where the largest Buddhist temple in Europe is to be built and will remain for a few days in Valencia, specifically in the Clock Building of the APV where work is being carried out these days and the details are being finalized so that it can be exhibited and visited free of charge by Valencians. The Lumbini Foundation, for its part, plans to hold various events around the exhibition.
The Buddha is the property of the Lumbini Garden Foundation. Its full name is Mahar Karuna Buddha and it is a replica of the Great Buddha of 40 meters. The replica is 2 meters high, weighs two tons and is made of white Burmese jade.
The entry of this replica to Spain through the Valencian port is not accidental. The Port of Valencia has historical links with the countries of the Far East and is the most important port in Spain in terms of commercial traffic with Asia, mainly with China and Indonesia, among others, in addition to its thousand-year-old connection with the Silk Route as the maritime entrance to the Mediterranean in Europe.
The Jade stone in Buddhism
The statue of this Buddha dedicated to worship is sculpted in the jade stone, a symbol of great moral standing in the Asian culture. Buddhists pay homage to jade, a stone originated in ancient China, and have venerated it for centuries.
Also, this religious sculpture was blessed in its farewell by the great Burmese Monk Bhamo Sayad, spiritual leader of the Burmese Sangha, in the world pagoda Kaba Aye within a religious ceremony. Likewise, the civil and religious authorities have accompanied the Buddha Karuna in his farewell to Spain
The great Buddhist university centre, a mindfulness centre, a great Burmese pagoda with a Buddhist monastery or an interpretation centre with original relics from the holy cities where the life of Buddha Sakyamuni took place.