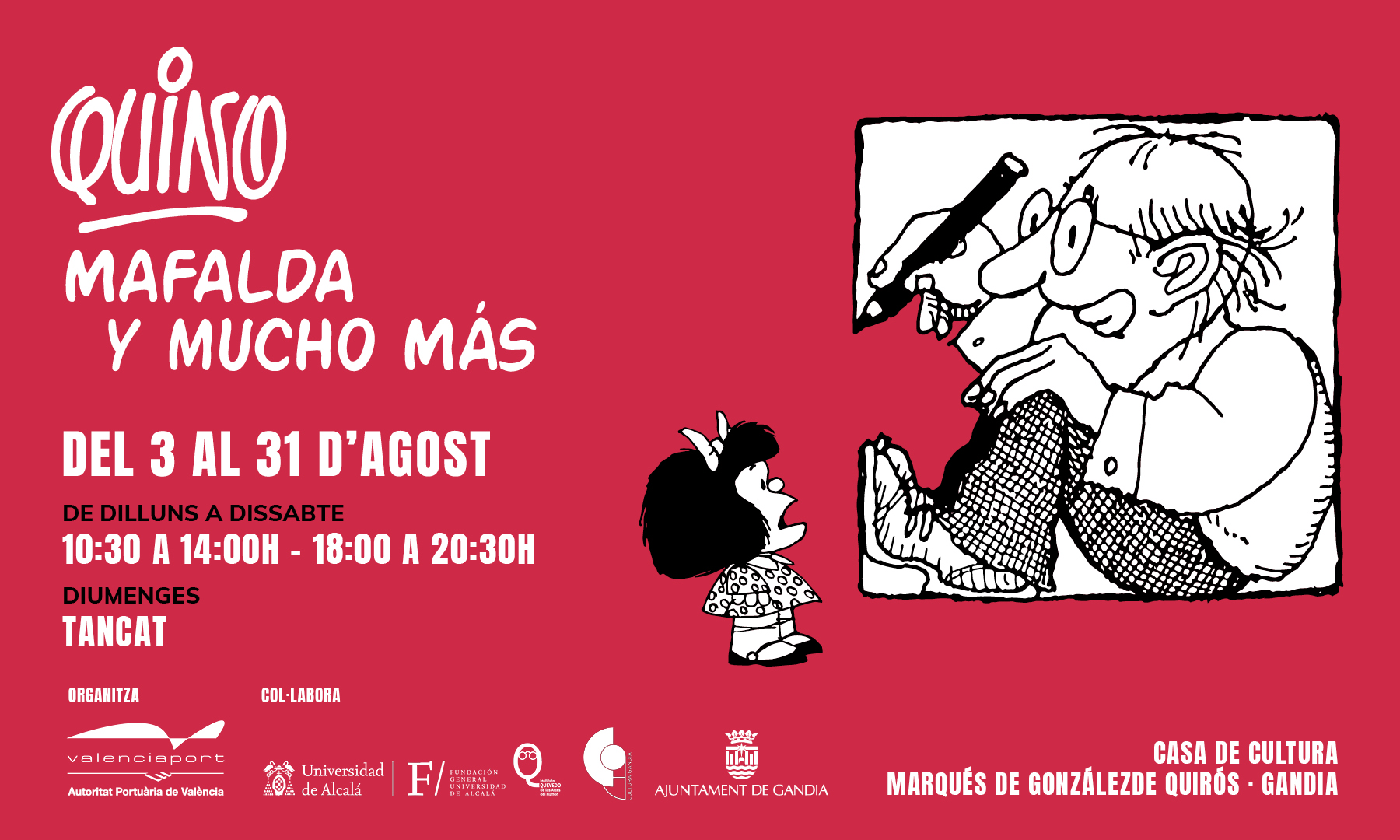 The Port Authority of Valencia (PAV) brings to the Casa de Cultura Marqués de González de Quirós in Gandia the exhibition 'Quino. Mafalda and much more' to the Casa de Cultura Marqués de González de Quirós in Gandia
Visitors will be able to enjoy this free exhibition from 3 August until 31 August
The exhibition will be open from 10.30 am to 2.00 pm and from 6.00 pm to 8.30 pm every day except Sundays
Visitors to the exhibition "Quino. Mafalda y mucho más" (Quino. Mafalda and much more) will look at the career of the Argentinian artist through more than 200 cartoons, advertising posters and audiovisuals
The exhibition has QR codes for downloading audio files to mobile phones, a Braille section and an active section for children
València, July 19th, 2022.- The Casa de la Cultura Marques de González de Quirós in Gandía will host the exhibition "Quino. Mafalda and much more", an exhibition that looks at the career of the cartoonist Joaquín Salvador Lavador Tejón, Quino, father of Mafalda and of an acid and biting humour that often delves into the misery and absurdity of the human condition. The exhibition will open on 3 August and will remain open until 31 August.
"Quino. Mafalda and much more" can be visited free of charge every day except Sundays, between 10.30 am and 2.00 pm and 6.00 pm to 8.30 pm, an exhibition organised by the Port Authority of Valencia (PAV) in collaboration with the Quevedo Institute of Humour of the University of Alcalá de Henares and the city council of Gandia. In this way, the PAV reinforces its commitment to the city and contributes to actions that promote its culture and develop its critical spirit.
The exhibition will look at Quino's career through more than 200 cartoons, advertising posters, audiovisuals and publications in several languages that will give an account of the international projection of the Argentinean artist's work. Together with Mafalda and her friends, visitors to this free exhibition will be able to enjoy one of the world icons of graphic humour and her non-conformist and restless vision of society in the cartoons produced between 1964 and 1973.
The exhibition is divided into different sections, such as Quino's Humour, where his technique and the meaning of his works will be explained. In the section dedicated to Mafalda, whose comic strips were published between 1964 and 1973, visitors will be able to learn about the universe surrounding this world comic icon. In the Homage to Quino section, the awards received by the Argentinian cartoonist and the recognition of society will be on display.
Visitors to the exhibition "Quino. Mafalda y mucho más" will be able to download explanatory audios to their mobile phones via QR code. There will also be a Braille corner for the blind and visually impaired, and a section for children where they can take part in various activities.
The exhibition dedicated to Mafalda and her friends has already been on display at the Clock Building in the Port of Valencia, where it was visited by more than 25,000 people, and at the facilities of the University of Alcalá de Henares.