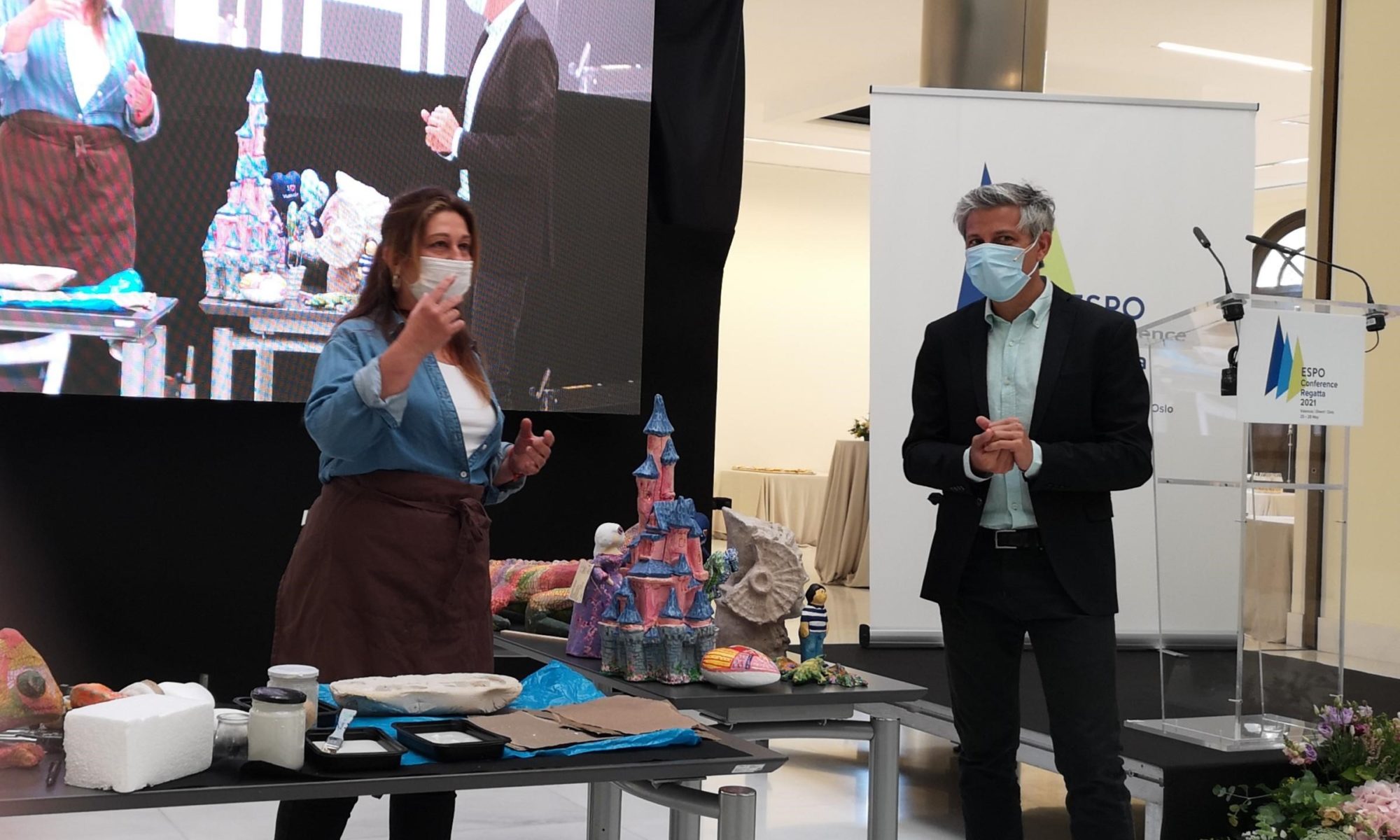 The presentation took place at the Regatta 2021 Conference held in the Clock Building with the participation of the main European ports and institutions
Fallas artist Verónica Palomares explained how a Fallas monument is made
València, May 25th, 2021.- Las Fallas, the great festival of the cap i casal, declared Intangible Heritage of Humanity by UNESCO, was one of the protagonists at the annual meeting of European ports which this morning held a conference in the Clock Building of the Port of Valencia. Valenciaport took advantage of the framework of the Regatta conference organised by the European Sea Ports Organisation (ESPO) to promote Las Fallas with the live presentation, followed by streaming throughout Europe, of the making of a Fallas monument.
The artist Verónica Palomares, winner of the Artesanía de la Comunitat Valenciana prize, explained the process of creating a Falla and gave a demonstration of the making of a piece. In addition to spreading the word about Las Fallas, the creative work of the Fallas artists was also highlighted. Specifically, Verónica Palomares made a ninot out of papier-mâché and white cork, which allowed those attending the event to get to know the work behind a Fallas monument. During her speech, the artist explained the Fallas commitment to creating their monuments with ecological and sustainable materials which, supported by technology, allow them to create the large pieces that fill the streets of Valencia with art and colour. A video produced by the Universitat Politècnica de València on the creation and assembly of the Falla L'Antiga de Campanar was also shown.
Las Fallas is one of the main tourist attractions that the Port Authority of Valencia and Turismo Valencia promote among the cruise sector. A wide, varied, and safe offer that includes traditional routes around the Albufera, the historic centre and the City of Arts and Sciences, as well as a wide range of plans throughout the province of Valencia based on history, nature and Valencian gastronomy.