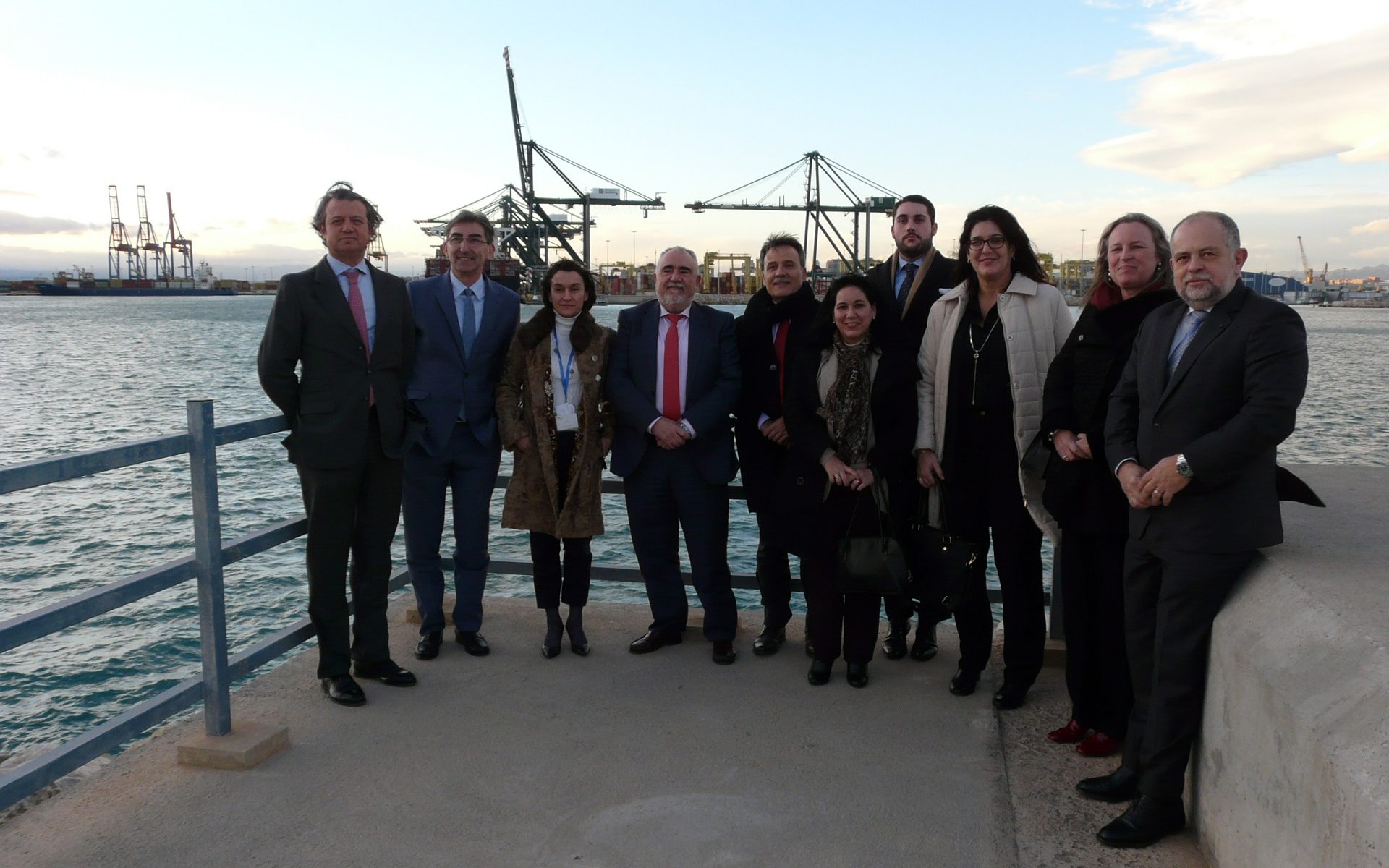 In 2017, Valenciaport channeled nearly 190,000 tonnes of goods with the Cuban ports of Havana, Santiago and Mariel, mainly were construction materials, chemicals, wines, beverages and refrigerated fish. 
Valencia, January the 11th 2018. – Valenciaport has received the visit of the Ambassador of the Republic of Cuba in Spain, Gustavo Machín. The meeting, which was also attended by the Economic and Commercial Counselor of the Embassy, Janet Fernández, the General Consul in the Valencian Community, Mabel Arteaga, as well as representatives of the Consulate of Cuba in Valencia, has been attended by Francesc Sánchez, general director of the Port Authority of Valencia (PAV); Mar Chao, commercial and business development director of the PAV; and Miguel Garín, director of international development of the Valenciaport Foundation.
The Cuban delegation visited the facilities of the Port Authority of Valencia, where they were able to learn in detail the operation and potential of the Valencian site. Among other aspects, they have been transferred the competitive advantages of Valenciaport for the transport of goods between Spain and America, highlighting the connections of Valenciaport with more than 1,000 ports of the five continents. The meeting concluded with a visit to the port area where they were able to get to know the Valencian facilities in first person.
Traffic with Cuba
In 2017, Valenciaport handled about 190.00 tonnes of goods with the Cuban ports of Havana, Mariel and Santiago. With regard to container traffic, last year the port of Valencia was the gateway for 22,000 TEUs to and from the Caribbean country.
The main goods exported to the Central American country were construction materials, with 38,000 tonnes; followed by chemical products, with around 15,000 tonnes, and machinery and tools, with 11,000 tonnes exported. As regards imports, the most important is the importation of wines, beverages, alcohols and derivatives, with 22,000 tonnes; and   frozen and refrigerated fish, with 5,000 tonnes. Currently, Valenciaport has a regular line that connects it biweekly with the Cuban capital.
The port of Mariel stands as the main enclave of the country in its connections with Valenciaport, bringing together 88% of the total traffic of goods of this country. Precisely, last September, a delegation from the Cuban port area, headed by Ricardo Concepción Rodríguez, deputy director of the port and José Ramón Iribarren, Siport21's general director, visited Valenciaport to see first-hand the operability and maneuverability of the port of Valencia with the objective of being able to adapt the port of Mariel to receive vessels of up to 360 meters in length.