The Port Authority of Valencia places its Foreland Application at your service, which is a tool for providing information and analyses of goods traffic in the ports of Valencia​, Sagunto and Gandía​.
This information is structured into goods ports of origin or destination, nations, geographical areas and goods classed by tariff codes or chapters and can be obtained in any of the numeric values available, such as tons, TEUs or number of containers.
To download the Foreland application and the data published monthly, you must register first.
Minimum requirements for using this application are:
Pentium IV at 2 GHz
512 MB RAM
500 MB free disk space
Windows XP or above
Installation steps:
1. Store application in temporary directory.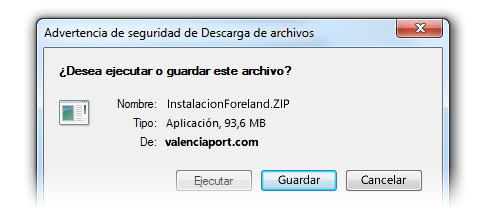 2. Extract the installation programme ("InstalacionForeland.ZIP" file).
3. Read and print out the installation instructions in the LEEME.TXT file.
4. Run the "Setup.exe" file to install the programme.
You can also use the Foreland on-line link, which provides simplified information interactively.