The Port Authority of Valencia Archive is home to the documents produced by the different bodies that have been responsible for the management of the Port of Valencia over time, from the mid-19th century to the present day.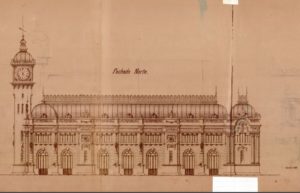 Clock building (northern facade) in Design of Maritime Terminal. Plans.  (1913). Port Authority of Valencia Archive. GIS: 3001-24-051-03-01.
In addition to the documentation relating to the Port of Valencia, we can find documents relating to the ports of Gandía and Sagunto, management of which was assumed by the then Autonomous Port of Valencia in 1985.
Classification table of archive