Valencia is a cruise port that offers all the services and attractions of the most sought-after destinations in the Mediterranean, combined with the authentic Mediterranean flavour of a boutique port.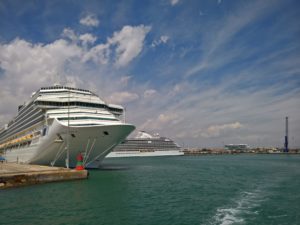 Discover the port's present and future facilities and all the attraction of an innovative destination for all types of shipping lines and cruise passengers.
The Port of Valencia is well connected to the two main tourist areas of the city: the historic centre and the City of Arts and Sciences.
At the very entrance of the port there are two municipal bus lines (EMT BUS) to visit the historic centre and admire the architecture of the modern part of the city. Buses for excursions can stop at different places in the historic centre. The most popular stop for cruise ships is "Guadalaviar", located at the entrance to the historic centre at the Torres de Serrano.
Sea and beach lovers can stroll along the Marina of Valencia and enjoy the urban beaches of Cabañal and Malvarrosa.