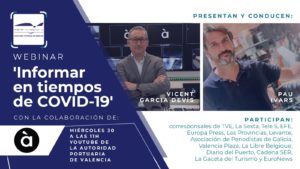 The digital meeting will be held on Wednesday 30 September at 11am and can be followed live on the Youtube Channel of the Port Authority of Valencia
Mar Cabra, winner of the Pulitzer Prize; TVE correspondents in Lisbon and Paris, Belén Lorente and Almudena Ariza; Ana Lázaro (Euronews); Paco Audije (Libre Belgique), Regina Laguna, correspondent for Valenciaplaza.com in Brussels; and journalists from various press, radio and TV media in the Valencian Community will talk about their personal and professional experiences as reporters during COVID-19
 The organisation of this event is an initiative of the Port Authority of Valencia (PAV) in the context of the exhibition "UNFORGETTABLE IMAGES" on display in the Clock Building of the Port of Valencia
Around thirty media professionals will explain their work and personal experience during the health emergency generated by the coronavirus pandemic at the digital meeting "Informing in times of Covid" organised by the Port Authority of Valencia (PAV) in collaboration with À Punt Mèdia. A webinar where communication professionals will tell firsthand the situation experienced during the coronavirus pandemic and will address the processing of information in this exceptional moment marked by the health emergency.
To follow the meeting, which is open to communication professionals and journalism students, you must connect to the Valenciaport YouTube channel. The webinar will be held on Wednesday 30 September from 11.00 am to 12.30 pm.
The speakers will give their point of view on the journalistic work during this pandemic and the development of their activity in exceptional working conditions.  The meeting will be attended by professionals from RTVE, La Sexta, Telecinco, EFE, Europa Press, Valencia Plaza, Libre Belgique, Cadena SER, Asociación de Periodistas de Galicia, theselfinvestigation.com, Euronews, À Punt, Levante, Las Provincias, Diario del Puerto and La Gaceta del Turismo, among others. The webinar will be presented and moderated by the journalists of À Punt, Vicent García Devis and Pau Ivars.
They have confirmed their participation:
Almudena Ariza, corresponsal TVE en Paris
Jose Luís Zaragozá, Levante EMV
Mar Cabra, premio Pullitzer (por las informaciones de los papeles de Panamá) y coordinador de theselfinvestigation.com
Isabel Domingo, Las Provincias
Elvira Graullera, Europa Press
Regina Laguna, Valencia Plaza
Ana Lázaro, Euronews
Juan Magraner, Cadena SER
Genar Martí, La Sexta
Kike Mateu
Rafael Miñana, La Gaceta del Turismo
María Méndez, Asociación de Periodistas de Galicia
Félix Tena, À Punt
Fernando Vitoria, Diario del Puerto
Belén Lorente, corresponsal TVE en Lisboa
Cristina Soriano, Tele 5
Paco Audije, Libre Belguique
EFE
About 30 journalists will participate in this first meeting of "Informing in times of COVID-19" and it will be coordinated from the Clock Building of the Port of Valencia. Given the interest shown by communication professionals in participating in this digital meeting, which has exceeded all expectations, Valenciaport is going to organise a second edition of the event in the coming months.
This digital meeting of communication professionals is part of Valenciaport's commitment to promoting the city-port relationship, and specifically to highlight society's ability to meet the challenges of the Covid-19 pandemic. Thus, during this pandemic, the PAV has organised the campaign #APieDelCañon to recognise the work of the professionals of the logistics and port community who have made it possible for the logistics chain not to stop and for the population not to be left without supplies.
Valenciaport has also promoted the homage exhibition Imágenes Imborrables (Unforgettable Images), which can be visited until the 12th October in the Clock Building of the Port of Valencia, and which shows 200 physical photographs, more than 1,900 of which will be projected on screens and an audiovisual space of videos with testimonies recorded by the teams of À Punt Mèdia.